Inline Wire Rod Shot Blasting Machines
Shot blasting process does not pollute environment.
Blasting process does not generate residue waste which need to proper treatment to dispose off like chemical treatments.
Shot blasting process does not modify the structure of the material, as it is dry process and it does not generate heat during the process.
Blasting process is dry process, unlike chemical treatment there is no chances of chemical reaction on the rod, coil surface, so no risk of making iron more fragile.
The machine is safe to operate, not at all hazardous for operator, environment.
The machine come with Dust Collector System, whatever scale is removed from rod surface is been collected by the Dust collector System.
Airless Shot Blasting Process
In Airless shot blasting a wheel is rotating at high RPM and use centrifugal force to propel the abrasive media toward an object. Airless machine provides uniform cleaning of surface, highly efficient and high production. It has facility of recycling used blasting media. The size of the wheel blast machine, blasting wheel, power of wheel depends of various factors such as job to be blasted, required finish and required production.
Inline Wire Rod Descale Airless Shot Blasting Machine
Patel Furnace & Forging Pvt. Ltd. (Shot Blasting Division) manufactures shot blasting machines for
Continuous in-line Descaling or batch type (coil) shot blasting machines for the iron and steel industry.
The Inline blast machines are designed for Descaling wire rods, bars, at line speed from 30 to 90
Meters / minute line speed. And can be adjusted as per drawing machines or any other process.
(Number of wheel, electricity load of wheels depends on Line speed required.)
| | | |
| --- | --- | --- |
| No. of Blast Wheel | Wire Diameter | Line Speed (meters / minute) |
| 3 Blast Wheel | Upto 35mm | 30 – 35 |
| 4 Blast Wheel | Upto 35mm | 45 – 60 |
Production Line of Online Wire Rod Shot Blasting Machine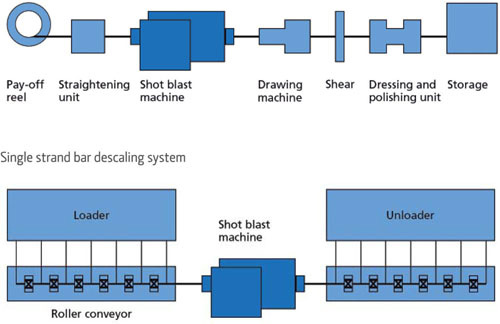 Product Inquiry Form